Potensic D88 Review Fold-Able drone, is this the right drone for you, let's take a look.
The Potensic D88 Fold-able Drone is part of a range of drones from Potensic that is gradually getting the buzz they deserve, due to the many quality drones they've been churning out over the
years. With the Potensic D88 drone, this is no exception. This is one drone that features so many high points that drone enthusiasts are ready to kill for. Let's quickly review these details.
Build Design And Quality – The packaging is so striking that you can't miss it. This drone comes presented in a very compact aluminium case. When in transit, your drone is safe and secured –
sure signs of good things to come when you finally get to unbox it.
The Potensic D88 is a foldable drone, meeting the convenience needs of its users. Your drone can be quickly folded and squeezed into your backpack when on a short trip. On the build aspect, it comes with brushless motors. This is one key feature that the latest series of Potensic drones are renowned for currently.
This technology enables the drone not to overheat even when overworked, are much quieter during flight and generally lasts much longer. Its sturdy build-quality ensures your drone will withstand sudden impacts and collisions. The Potensic D88 drone's protective design and hard casing are the hallmarks of its build-design and quality.

Camera – It offers a 2K camera, steps away from the 4K camera, which has become like a reference point in video resolution for drones. It has an aerial camera, and you're sure to have a great time using its first-person viewing mode. At 110 degrees, it has a wide-angle of view. Also, its real-time transmission extends a whopping distance of over 2600 feet with a 5G Wi-Fi transmission.
Battery And Flight Time – It comes with a 7.6V 3400mAH Li-Po battery. This gives you a flight time of 20 minutes from one single charge. It has a charging time of 4 hours – a little bit on the high side, but a few spare batteries here and there can solve your battery problems. Again, it has one charging hub designed to charge two batteries at the same time. So, your battery needs are well thought of on this drone.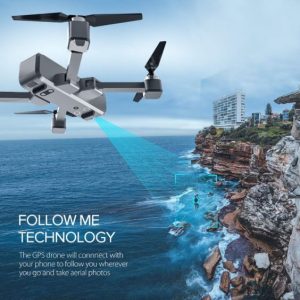 General Flight Features And Operation – The ease of operation of this drone is its selling point. Many top-notch features have been incorporated into this drone to enhance five-star user experience.
Flight Stability – Staying stable even at a maximum speed of 50km/hr has made the Potensic D88 drone a high-speed quadcopter. So, no matter the level of speed you're piloting at, you're still able to capture those really beautiful photos and videos.
Automatic Take-off And Landing – This is one feature no drone enthusiast takes for granted. At your beginner level, it is very helpful, and even at your advanced stage of drone piloting, it still possesses that practical usefulness. It takes the stress off your landing and taking-off process, ensuring a smooth course of movement all-round.
Auto-Return Home – Your drone will immediately return home to its launching base, just in case there are any problems such as a low battery, low signal etc.
WayPoint Route – With its in-built map, you're able to build a flight path for your drone to follow.
Point Of Interest – Pick a particular point of interest, maybe a beautiful scenery you've been itching to explore, engage this feature and have your drone capturing breathtaking footage of these landscapes.
The Cons Of Your Drone
Its long charging time is a big drawback.
Its Gyro settings are also hard to install and manipulate.
Overall, this is a really solid camera drone with outstanding flight features. Its flexibility and portable features count hugely in its favour. Therefore, if you really love getting value for your money, then get the Protensic D88 drone at the earliest opportunity.
Thank you for reading our Potensic D88 Review, wFold-able Drone  hope you will be back soon.
Sandisk Micro SDXC Ultra MicroSD TF Flash Memory Card 128GB Class 10, works with most GoPro Cameras  as well, w/ Everything But Stromboli Memory Card Reader
Sandisk Ultra micro SDXC Micro SD UHS-1 TF Memory Card 64GB 64G Class 10, works with most GoPro Camers as well, w/ Everything But Stromboli Memory Card Reader
Sandisk Ultra micro SDHC Micro SD UHS-1 TF Memory Card 32GB Class 10, works with most GoPro Camers as well, w/ Everything But Stromboli Memory Card Reader
Get The latest news and updates!
I hope you are enjoying your visit to Joy Drones. I'll send you updates whenever something new is up loaded to my website. You'll receive emails about new products and product reviews as they are added to joydrones.com.