Potensic D85 Drone Review
Do you need a drone that oozes quality in all features? Imagine it also comes at a reasonable price compared to its peers?  Potensic D85 drone is FPV enabled drone with 2k HD camera which goes for under $300 (at time of publishing) on Amazon. It boasts of some breathtaking features that both drone beginners and experts would find compelling. Think of any sophisticated attributes in a top-flight drone, you will find it in the Potensic D85.
Fantastic Features:
The design: the drone has a rugged but handsome outlook. It is built like a "hulking spider" with stylish black color. The long legs hold firm and strong to the ground protecting the bottom of the drone and the camera. Its weight 525g is designed to survive extreme conditions. Also, with a high-quality casing that cannot be easily ripped apart in case the drone crashes into a tree. Amazingly, it comes with the brushless motor making it less noisy and more durable.
A fixed camera 1080p HD: its camera has an incredible 130-degree capture range. It takes incredible pictures and videos with extraordinary qualities. You can activate the First Person View mode to see directly what the drone sees or the VR Headset mode.
Its Sleek controller: avails the users of some buttons and two joysticks. It is effortless to learn the controls. There is a phone holder which positions your smartphone in a landscape mode to give a panoramic view of the drone's sight.
5G Capability: the drone is capable of an unbelievable live transmission to the phone from a remote control range of 1500 meters and 5G WiFi range of 800. What if you find yourself in a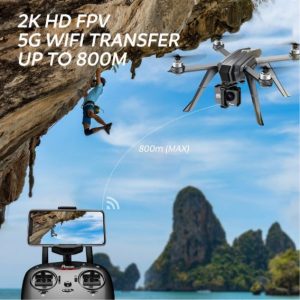 situation where you have exceeded the range? The drone returns home automatically.
Impressive safety measure:  when the battery is low, the drone returns home automatically. When the drone is out of control range, it returns. Home refers to the start-off point. Amazing! Isn't it? No worries about the cell power nor distance,  your potensic D85  drone is "smart" enough to return safely.
Headless mode enabled makes the drone beginner-friendly. You can fly the drone based on your own direction without bothering about the direction that the drone nose is facing.
Altitude hold feature ensures the drone is as stable as possible in mid-flight for more explicit footage. Even if you let the controller down, the drone still hovers and would not fall to a crash.
Draw Route: users can draw a route pattern that the drone will follow while in flight. Or you can use the follow me mode, where you tap a moving object which the drone follows. Because it can fly at high speed, it follows even fast-moving objects within the range of 1500 m.
Battery and flight time: It comes with a "smart" battery that alerts users when it is running low and remembers the drone is also intelligent enough to return to take-off point when the battery is low. The 2800mAH lithium Polymer battery gives 20 minutes of flight time. We cannot forget the fantastic speed of 52km/h, but beginners are advised to start slow to avoid crashes anyway.
Verdict on Potensic D85 Drone
The major constraint of Potensic D85 as raised by users is the lack of portability. There is no carrying case and it is not fold-able. If you can overlook that and see the array of jaw-dropping drone features that come with such affordable price, then  Potensic D85 drone is a must-buy for all drone enthusiasts.
Sandisk Micro SDXC Ultra MicroSD TF Flash Memory Card 128GB Class 10, works with most GoPro Cameras  as well, w/ Everything But Stromboli Memory Card Reader
Sandisk Ultra micro SDXC Micro SD UHS-1 TF Memory Card 64GB 64G Class 10, works with most GoPro Camers as well, w/ Everything But Stromboli Memory Card Reader
Sandisk Ultra micro SDHC Micro SD UHS-1 TF Memory Card 32GB Class 10, works with most GoPro Camers as well, w/ Everything But Stromboli Memory Card Reader
Get The latest news and updates!
I hope you are enjoying your visit to Joy Drones. I'll send you updates whenever something new is up loaded to my website. You'll receive emails about new products and product reviews as they are added to joydrones.com.