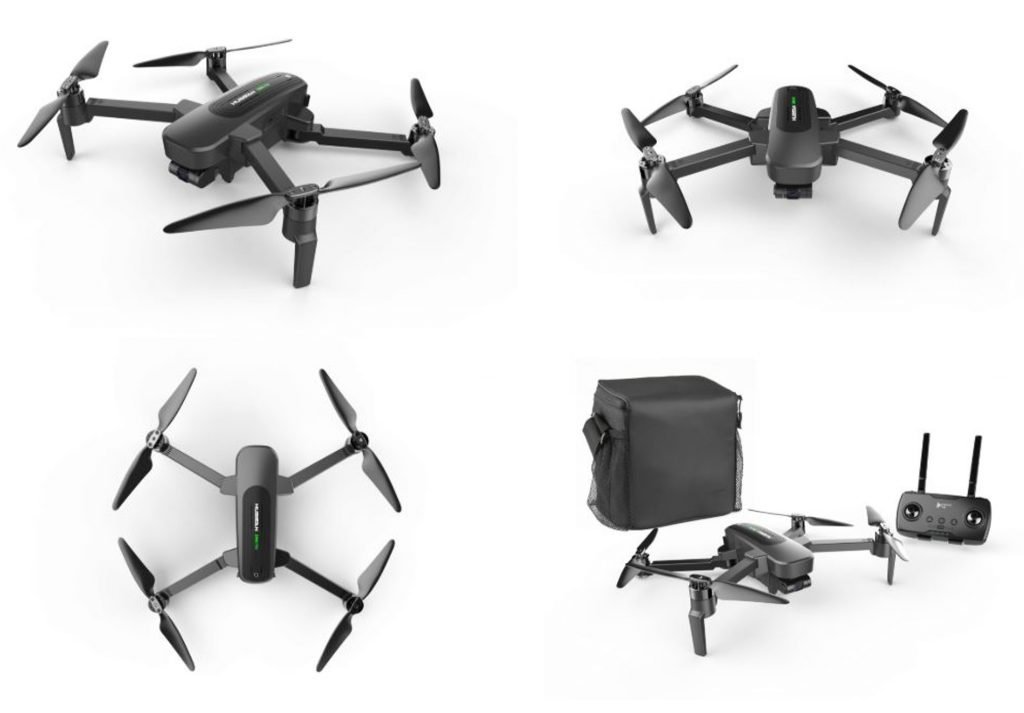 Hubsan Zino Pro 4K Drone UHD Camera 3-Axis Gimbal FPV RC Quadcopter
Remote-controlled drones, like the Hubsan Zino Pro,  are the right way to take pictures or record videos from a distance. You don't have to walk up the mountain to get the best shot just start your drone and it'll do the job for you.
Over the last few years drones have improved enormously. You can now buy one with a good range and great features for a very reasonable price. Case in point, the Hubsan Zino Pro which has an impressive set of features.
The Zino Pro has an excellent price/performance ratio. One of the best features is the 4K built-in camera that can record videos at 60 Mbps thanks to the Sony Sensor.
You can capture excellent still images as well. The drone will allow you to take 180° Panorama view images also.
The 4 km range allows taking video of wildlife without scaring them off, they will never know you're there. Just set the Orbit point and the drone will hold its position. Stabilization and vertical hold are excellent on the Hubsan Zino Pro.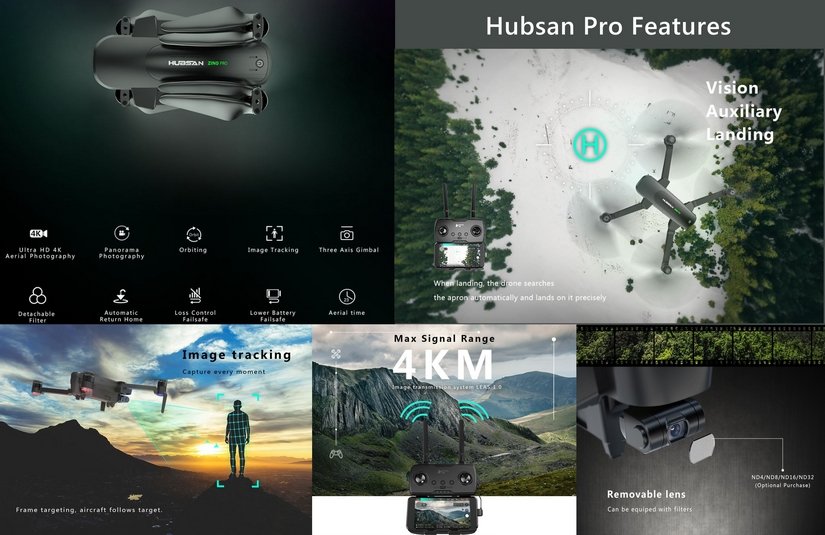 The drone has a very respectable 23 minutes flight time; an extra is always a good idea though. The Zino Pro has the low battery return home feature to prevent unexpected crashes.
Controlling the drone is accomplished using the provided remote with your smartphone.
Another cool feature of this drone is Level 5 Wind Resistance, according to the manufacturer.
This drone has very stable flight properties thanks to the mechanical three-axis gimbal. Some drone users sometimes have difficulty getting their drone to land in the best location, however the Zino Pro is equipped with Vision Auxiliary Landing, and it scans the area for the best spot to land.
Overall the Hubsan Zino Pro presents a very credible list of features and benefits. Many of the features you can only find in much more expensive drones like the Mavic Air, at more than half the price you can't go wrong.
Features:
Ultra HD 4K
Transmission Distance : 4KM
Detachable Filter
Automatic Return Home
Three Axis Gimbal
Loss Control Failsafe
Lower Battery Failsafe
Max Flight Time 23 Minutes
Specifications:
Motor: Brushless motor
Max flight speed: 10m/s
Windless Hover time:23min
Positioning: GPS+GLONASS
Resolution:4K:3840*2160 30fps
Battery capacity: 3000mAh
Battery type: 3S lithium battery
Scheme: LEAS 1.0
Max signal range (no interference, no obstacle): 4km
Built-in battery: 2600mAh
Charging time: 2.5h
Image Chip Ambarella A12S
This package includes an extra battery.
Also Available Is The Hubsan Zino – White – It Has A 1km Range
Sandisk Micro SDXC Ultra MicroSD TF Flash Memory Card 128GB Class 10, works with most GoPro Cameras  as well, w/ Everything But Stromboli Memory Card Reader
Sandisk Ultra micro SDXC Micro SD UHS-1 TF Memory Card 64GB 64G Class 10, works with most GoPro Camers as well, w/ Everything But Stromboli Memory Card Reader
Sandisk Ultra micro SDHC Micro SD UHS-1 TF Memory Card 32GB Class 10, works with most GoPro Camers as well, w/ Everything But Stromboli Memory Card Reader
Get The latest news and updates!
I hope you are enjoying your visit to Joy Drones. I'll send you updates whenever something new is up loaded to my website. You'll receive emails about new products and product reviews as they are added to joydrones.com.