As soon as you unpack the Hubsan X4 H501S Pro, you will find that it is a solid build and beautiful design. Despite the plastic case, it does not feel like a cheap toy.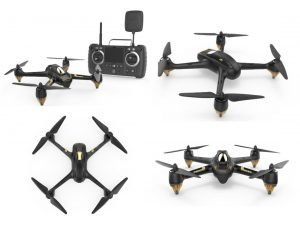 We would not expect anything less in a quadrocopter from a renowned manufacturer like Hubsan. It is surprisingly a compact drone, which fits into a backpack and with its weight of about 14 ounces, it is easily transported anywhere. The Hubsan X4 H501S Pro is available in white and black.
At the front of the camera is the HD camera with a resolution of 1080 HD, your in flight FPV (First Person View) with a live transmits at 5.8 GHz.
The battery is inserted at the back. Under the four rotors, you will find LED lights, spaced so that they don't interfere with the picture and video images.
The place of the logo and decals enhance the design. The control unit is just as compact, and comfortable to hold. On the remote are the controls for the many features:
1080P High Definition Camera
GPS Positioning
Automatic Return To Home
Altitude Hold
Follow Me Function
The big screen allows for easy viewing. The Hubsan X4 H501S takes off with too much effort and is responsive. Even in flight with some wind it holds it's own.  With strong winds the altitude hold feature still performs well. This stability assures you of jitter free video and very little blurring of images.
The Hubsan H501S X4 will correct itself immediately even heavier winds.
There is no need constantly adjust flight elevation, the Husban H501S x4 does a great job of maintaining it's set course.
The Return Home feature, is controlled by the GPS, this is a must have feature considering the 800m flight range. You could easily lose sight of the drone and it insures the drone comes back befor the battery runs out.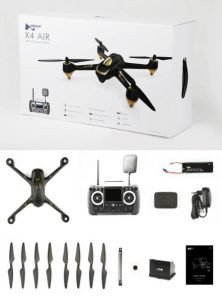 The Follow Me function works well but has limited applications due to the limited battery life.
The 1080p HD camera provides crisp, detailed images with good color
Rendering.
A Micro-SD card slot is provided on the drone for video and image storage.  The FPV feature worked very well and actually was impressive.
For a drone in this price range the overall performance was very good and very little jitter with the 5.8ghz transmission. Although the Hubsan H501S X4 range is up to 800m transmission of video is limited to around 300m.
The first time you charge the batteries it can take up to 4 hours, after that it takes less that 2 hrs. The battery charge will provide approximately 20 minutes of flight time.
Specifications:
Max Flight Time 20 Minutes
Size- 8.6*8.6in
Max Flight Time- 20 minutes
Flying Weight- 450g
Battery- 7.4V 2700mAh Li-Po
Charging Time- 210 minutes Distance- 300 meters
Real Time FPV
Photo/Video
Brushless Motors
Camera Resolution- 1920*1080P
GPS/Follow Me/Headless/RTH
Hubsan Drones with GPS functions support GPS ,GALILEO, GLONASS total 3 types of GNSS work simultaneously.
Get The latest news and updates!
I hope you are enjoying your visit to Joy Drones. I'll send you updates whenever something new is up loaded to my website. You'll receive emails about new products and product reviews as they are added to joydrones.com.