Eachine E511 vs Eachine E511S Drone Review
Seeing the Eachine E511 drone for the very first time, you will be forgiven if you think you are looking at the DJI Mavic Air drone, as they are alike in most aspects especially in the design-build. Most people refer to the Eachine E511 as a Mavic Air drone clone.
No disrespect to other quality drones out there, but we all know the DJI line of drones has set pretty high standards in the drone industry that would be difficult to beat. So we might as well be forgiven if we now see every other drone from the high bar the DJI drones have set.
Produced by Eachine, a US-based drone manufacturer, the Eachine E511 is one of its recently launched entry-level drones for beginners with awesome features. With time and a little bit of market visibility, it is set to become the very best within its price range.
That's why we are bringing an in-depth review, so you can figure out why this drone is getting all the buzz surrounding it. Let's get on with it.
Eachine E511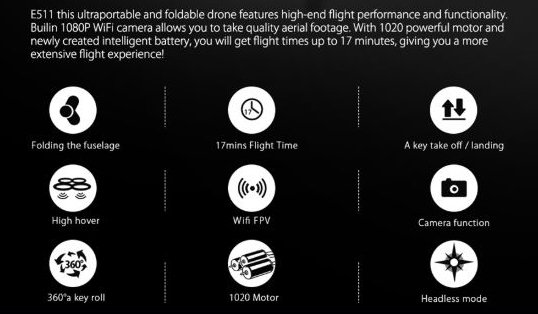 As we said earlier, this drone is similar to the DJI Mavic Air quadcopter, making it an affordable alternative at its price tag. Built with the industry-standard ABS plastic material, this drone is produced to withstand strong impact. It has strong heat resistance and high tensile strength. Its body framework comes with white jet coatings, making it really beautiful.
I've always been a big fan of fold-able drones. And I'm sure photographers who travel a lot would agree with me. It's much easier to carry around while on the go, especially in your backpack. The constant fear of your drone getting crushed is non-existent.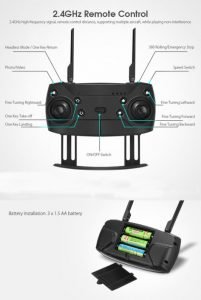 With the fold-able propellers, the Eachine E511 is easily one of the best travel drones around. It also comes with propeller guards which reduces shock in the event of an emergency impact.
These guards also give the drone stability for smoother flight experience. In the design aspect, the Eachine E511 meets our expectations.
It comes with a 1080P HD camera. You can be sure of capturing footage with high quality and details. For that beginner, this drone can serve as a training ground before joining the big league of professional aerial photographers using more advanced drones. Though the camera can't be adjusted remotely, you can still produce quality stills.
It comes with a 7.4 V 1200mAH Li-Po battery that assures of an impressive flight time of up to seventeen minutes per battery charge. This is a compact battery which is capable of delivering power more efficiently. This improved flight time makes it an excellent choice for beginners. For every beginner out there, as you all know, it's not every day you come across a drone under $200 with that amount of flight time.
It is packed with an ergonomically designed remote control that features dual antenna system and retractable phone holder. The takeoff and landing buttons can be found on the right side of the left stick. The controller has the usual control sticks and six other buttons.
The control distance has been pegged at 300 meters which is an attraction for beginners. Its lack of GPS has been made up for by an optical flow system to ensure steady flight controls.
It can perform 360-degree aerial flips. You can now wow your audience with breathtaking stunts while showcasing your piloting skills.
Other great features include a trajectory flight mode that enables you to customize your own flight path. A multi-control function means you can pilot your drone using the remote controller, a G-sensor or virtual sticks.
Altitude hold and a headless mode mean you can pilot your drone based on the current direction your movement level is stacked at. Therefore, that drone enthusiast with no previous flight experience can partake in the fun. Nobody's left out.
The Cons
I'm trying really hard to find some faults in this drone. Can't really find any that give us a cause for concern. Well, for the beginners, the remote control distance is usually a big deal. And the remote control distance of this drone pegged at 200 meters is not enough.
Finally, this is one of the best fold-able camera drones in the market right now in its asking price. Looking for a great-looking drone with superb specifications that goes for less than $150? Look no further, as Eachine E511 meets your every need. You can take my word for it. My word should be worth something. Shouldn't it?
Eachine E511S
With the Eachine line of drones, it keeps getting better and better. The new Eachine E511S proves that. Cheaper, yet better and exciting with tons of nice features.
This particular release is an improved version of the E511 and it comes with an interesting flight and fun features. Buying the Eachine E511S, you can feel among the big leagues of the highly-priced boys, enjoying the features that come with it without actually breaking the bank.
Let's get on with our review, and by the time we're done, I'm sure you will be making that order.
I'm looking for a word that describes the design-build.  Sturdy. Yes, sturdy describes it. This is one drone built with impact resilience in mind. You can be sure your drone will not spill out its content on having its very first impact.
The ABS material it is made from ensures high shock absorbance, high tensile strength and strong impact resistance. Therefore, you're in for a long-time experience with your drone whose durability is highly guaranteed.
Like its predecessor, we're looking at a fold-able drone here with the perks that come with it – convenience while travelling, can be easily carried around and it is generally small and compact. A propeller guard is included to protect your drone and maximize flight experience.
It comes with a 1080P camera which is adjustable. It had a wide-angle of view of 120 degrees. Your aerial footage is sure to get exciting and all quality. The GPS module allows you to operate the camera remotely. Can you beat that?
I don't know of many drones under $200 with that feature. Its FV transmission distance is 80 meters. With the Eachine E511, you will enjoy crystal clear footage in HD resolution. This is one training drone for that beginner who wants to turn Pro.
It comes with a 7.4V 1200mAH lithium Polymer battery. This will give you about sixteen minutes of flight time. It's been fitted with a GPS module to provide precise positioning for the drone.
It's been designed with beginner-friendly features to get every newbie started. One of them is the Waypoint mode which allows a certain route to be followed by the drone using your smartphone.
Also, follow-mode ensures the drone follows you in your every direction. This is a great feature for outdoor adventures. The orbit mode is excellent for taking aerial selfies from different angles. The one key takeoff and landing features are designed for beginners to ensure a smooth takeoff and landing just by pressing one button. An altitude hold feature will allow you to maintain a constant altitude.
With this feature, all you've got to worry about is just the forward flight. Other amazing features include VR compatibility and 3D aerial flips.
The Cons – It has a really improved remote control distance of up to 300 meters. Better than its predecessor. This little improvement affects the general flight time. Longer distance, shorter battery life.
Overall, I think this is an improvement on its predecessor with an adjustable camera which can be remotely controlled. The addition of a GPS module makes it a GPS-based drone. Great value for an affordable price. A great drone it is for beginners.
Thank you for stopping by and reading my Eachine E511 vs Eachine E511S Drone Review.
Purchase The Eachine 511 Here!
Purchase The Eachine 511S Here!
Sandisk Micro SDXC Ultra MicroSD TF Flash Memory Card 128GB Class 10, works with most GoPro Cameras  as well, w/ Everything But Stromboli Memory Card Reader
Sandisk Ultra micro SDXC Micro SD UHS-1 TF Memory Card 64GB 64G Class 10, works with most GoPro Camers as well, w/ Everything But Stromboli Memory Card Reader
Sandisk Ultra micro SDHC Micro SD UHS-1 TF Memory Card 32GB Class 10, works with most GoPro Camers as well, w/ Everything But Stromboli Memory Card Reader
Get The latest news and updates!
I hope you are enjoying your visit to Joy Drones. I'll send you updates whenever something new is up loaded to my website. You'll receive emails about new products and product reviews as they are added to joydrones.com.